Does Thread Count Really Matter?
Choosing the Right Thread Count for Ultimate Guest Comfort
Thread Count  

---
Less is more. We've all heard that saying tossed around. But when it comes to bed linen thread count, most people seem to think more is… better? A common misconception surrounding both home and hospitality linens is that a higher thread count means a higher quality product. That's just simply not the case. At Eden Textile we've been manufacturing high-quality, durable whole hospitality bed linens for over 75 years. What we've learned over that time, and what hoteliers know, is that there's a perfect range for hospitality linen thread count that offers both superior guest comfort, along with the durability to take frequent washes.
HOW IS THREAD COUNT CALCULATED?
---
Thread count is literally the number of horizontal threads (called the weft) and vertical threads (called the warp) in one square inch of fabric. Because of factors like material, ply and weave, higher thread count does not always mean better quality.


How does ply affect Thread Count?
---
The ply will affect the quality of the hotel bed linens, which refers to the number of yards in each thread. Single ply means one strand of yarn per thread, two-ply means two strands of yarn are twisted together to make each thread, while multi-ply yarn means more than two are used to make the thread. For hotel operations, single-ply sheets make the best choice. Why? Because at the manufacturing level, a material that is strong enough to be woven alone translates to higher quality materials. And as we know, hospitality wholesale linens need to be as durable as possible to stand up to the relentless laundering—while still being soft. 
Typically two and multi-ply sheets are lower quality because the material is not substantial enough to be woven alone. These kinds of sheets can often weigh more, and are less soft, not making them a viable option for quality accommodations. Simple math will show that the more threads woven together per square inch, the higher the thread count—which means many of these multi-ply products are boasting thread counts even up to 1200. Made with lower grade materials, thread counts that high simply don't mean anything when it comes to assessing quality, or durability. At Eden we produce 180 to 300-count bed linens for proven durability, luxury, easy maintenance—and to offer cost-effective options to our customers.
Percale vs sateen sheets
---
The two most common weaves for hospitality bed linens are percale and sateen. Percale is synonymous with "plain weave," a simple criss-cross pattern. Using a one-under-one-over weave creates a smooth, tight knit sheet. Percale sheets are durable and get softer over time with washes. Typically they have a "crisp" feeling.
Sateen cotton is made with a one-yarn-under and three-yarn-over weave, exposing more thread surface, giving the sheets a silky feel; they are extremely soft to touch and are wrinkle-resistant. While a sateen weave is super luxurious it is slightly less durable than percale weave. 
Both of these weaves are ideal for hospitality linens as they are proven to be durable and long-lasting while still soft and comfortable for the guest.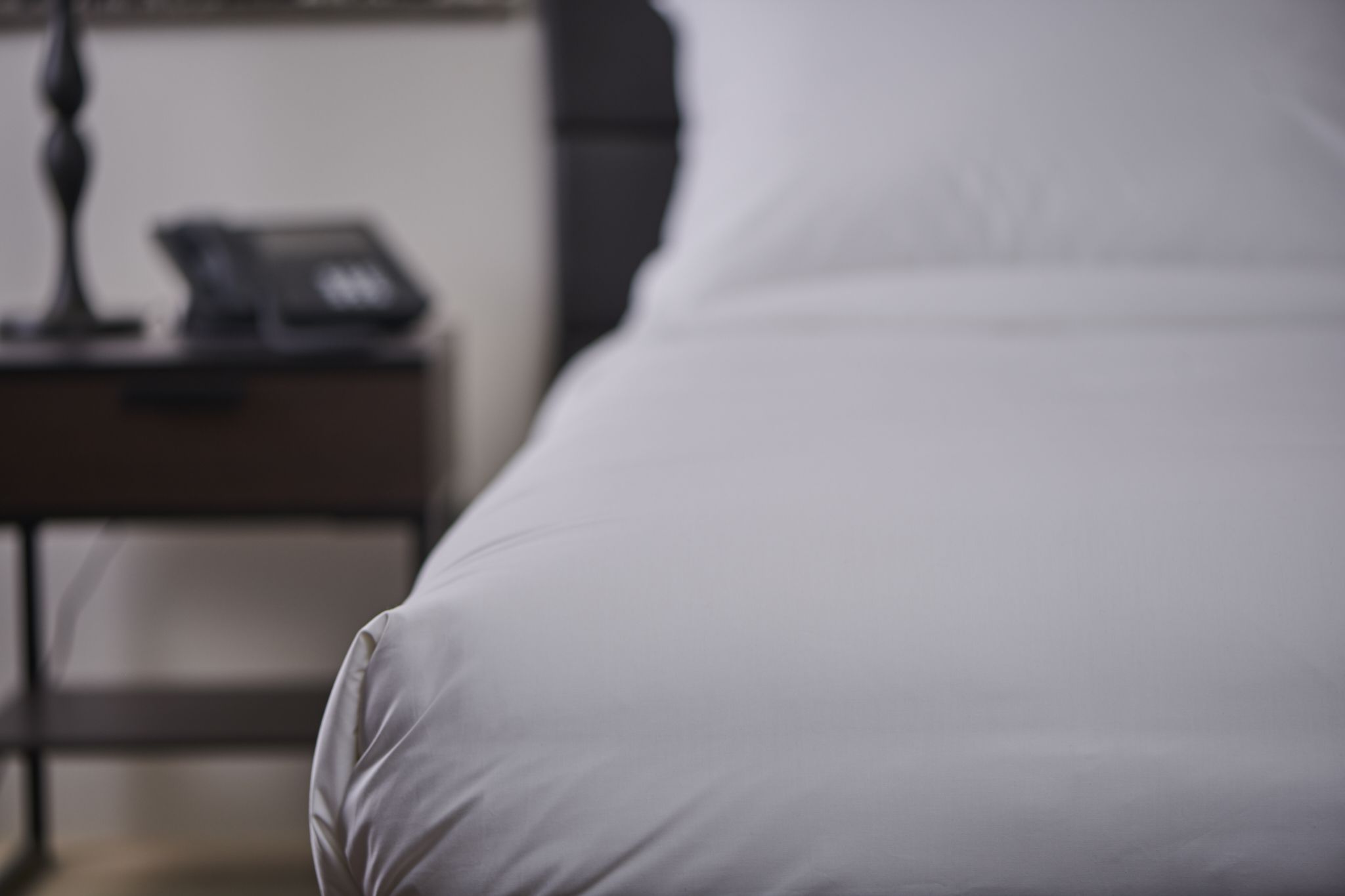 At Eden Textile, the linen products we develop or design are always with the end-user's comfort in mind, while creating products that financially make sense for our hospitality customers. Our extensive range of wholesale bed linens, commitment to long-lasting quality, and unbeatable manufacturing specifications have supported our customers for over 75 years.