---
Triple sheeting has long been proven as an efficient and sanitary way for housekeeping departments to clean hotel rooms. Triple sheeting is a professional bed-making method that uses a flat or fitted sheet over the mattress, then a flat sheet on top of that, plus an additional top sheet that covers the blanket or duvet.

Laundering duvet covers or quilted blankets in between each guest is simply not a viable option for most hotels, who need their housekeeping department to function as quickly as possible while still providing the best guest experience. 
Triple sheeting allows housekeepers to change bed linens quickly, and the top sheet ensures that guests are not in direct contact with the blanket underneath. Triple sheeting also provides the look and feel of a high-end hotel, with the option to add decorative accents on top, or, woven right into the top sheet, like our unique line of Vela Uniti Top Sheets.  
Top Three Benefits of Triple Sheeting 
---
1. Hygiene - All sheets that come into contact directly with guests are laundered.


2. Cost Savings - The laundering process itself is shortened considerably by triple sheeting, saving time, which saves labour costs.
3. Saves Time - It takes much, much longer to launder a bulky duvet or bedspread than sheets, helping the housekeeping department become more efficient.
Should I triple sheet at my Airbnb?
---
Since the look of a triple-sheeted bed immediately gives guests the familiar feeling of checking into a clean, high-quality hotel room, we would recommend triple sheeting for AirBNB hosts.

Not only will the look impress guests once they walk into the bedroom, but it will also signal that the host has invested in extra touches that ensure a hotel-grade experience throughout their AirBNB, making a lasting impression and earning repeat customers. (Plus, it really does provide a cleaner and speedier way to clean the unit between guests.)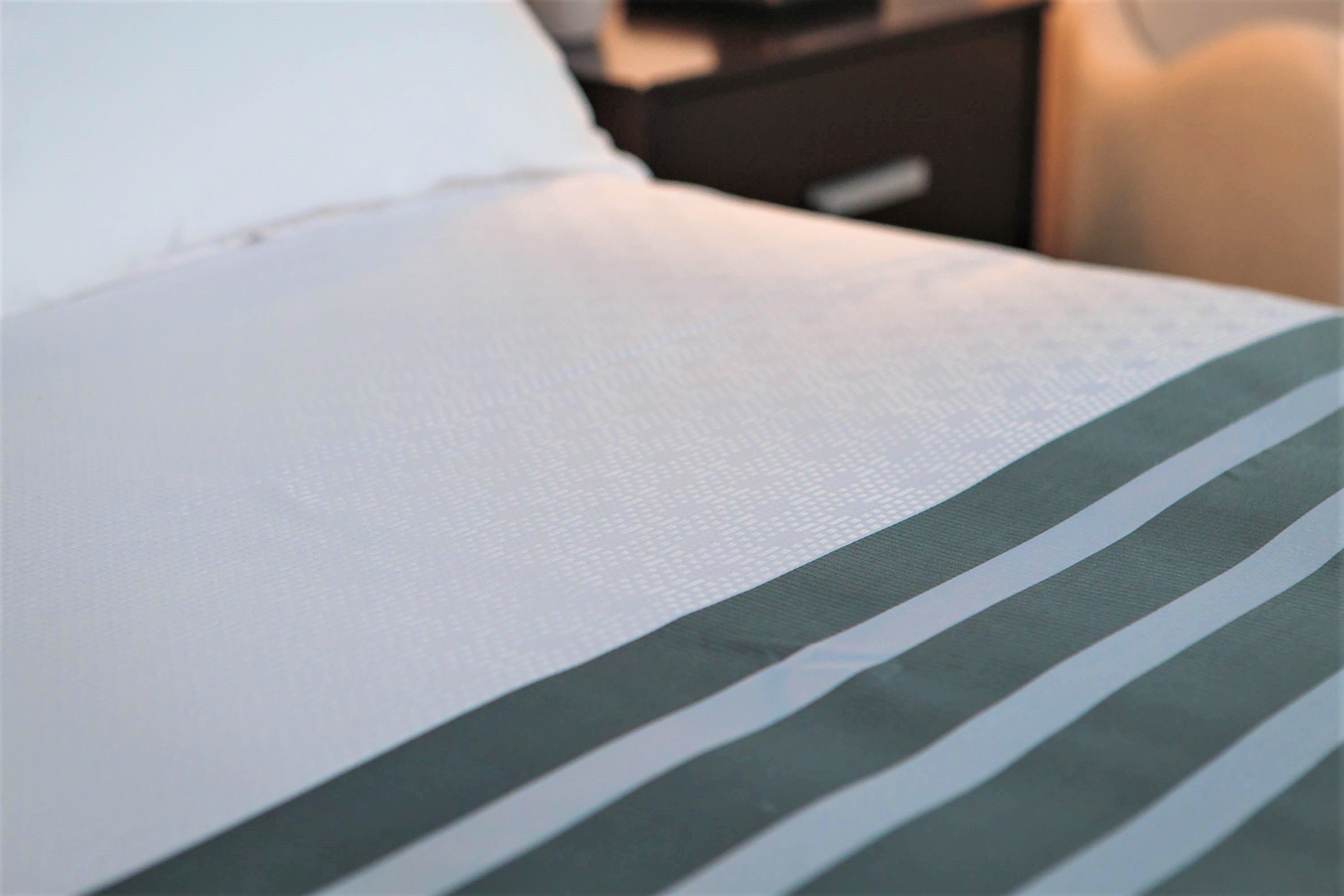 How To Triple Sheet
---
Start with the bottom sheet, your foundation layer, that goes directly on top of the mattress. For efficiency some hotel housekeeping departments choose to use a flat sheet for this layer, another option is to stick with a fitted sheet as the first layer.
Add a flat sheet for the middle layer, making sure the top hem is parallel to the top of the mattress.
Add the filling layer, which is typically a lightweight blanket, about six inches below the top of the mattress. 
Add top sheet or decorative top sheet, on top of the blanket. Again, make sure the top hem is aligned with the top of the mattress. 
Choose your fold. Either fold down the two flat sheets and blanket another six inches, meaning the sheets are double-folded and the blanket is folded once, or, take both flat sheets and fold down together six inches without the blanket.
Tuck the blanket and sheets starting with the foot of the bed, then the bedding hanging from the sides, making a tight, clean corner. 


CONCLUSION
---
Wowing guests in any type of accommodation, whether it be a large hotel or single AirBNB, starts with investing in quality bed linens. Triple sheeting is a great way to impress guests, increase efficiency, improve hygiene and save money.

Eden Textile has been producing and designing linens for hotel clients for 75 years; we offer a wide range of wholesale hospitality linens, easily available online.

Browse our collections today.