Bed Skirts and Box Spring Covers have been a staple for any guest room looking to cover the bed base and box spring mattress. Sometimes referred to as 'dust ruffles', the bed skirt has come a long way from those puffy, ruffled skirts that some may think of. The design and style of bed skirts for hotels are now more inviting, elegant and neat. 
In this blog, we compiled information to get you more familiar with what bed skirts and box spring covers are. 
What is a bed skirt?
---
A bed skirt is a covering for the sides of box spring mattresses and bed bases. It's generally made from fabric and serves two purposes: to stop dust from gathering under a bed and to offer an attractive way to cover the space under the bed frame. Well-designed, custom bed skirts will often complement the interior design of the bedroom, particularly in hotels and other accommodations. Typically the bed skirt matches the window drapery or another design element in the room. 

What are Fitted box springs?
---
The fitted box spring style is becoming increasingly popular in the hospitality industry. They are designed to cover or wrap around a box spring mattress, like a fitted sheet. These box spring covers are ideal for hotels that have platform bed bases or box frames where only the box spring mattress is exposed. As compared to the traditional metal frames where a bed skirt would be ideal. Our fitted box springs come in two different styles: the box spring wrap and box spring cover.

Box Spring Wrap
The fitted box spring wrap has an elasticized fitting on both the top and bottom of the wrap. Allowing the wrap to be easily placed over the box spring without having to completely remove the mattress.


Box Spring Cover
The box spring cover is designed similar to a fitted sheet. A white poly-cotton decking is used on the top of the box spring cover while the sides has the elasticized bottom to fit tightly over the box spring.


HOTEL BED SKIRT & Box Spring Cover STYLES
---
Bed skirts come in several different style options. Here are the main and most frequently purchased styles that Eden Textile manufactures: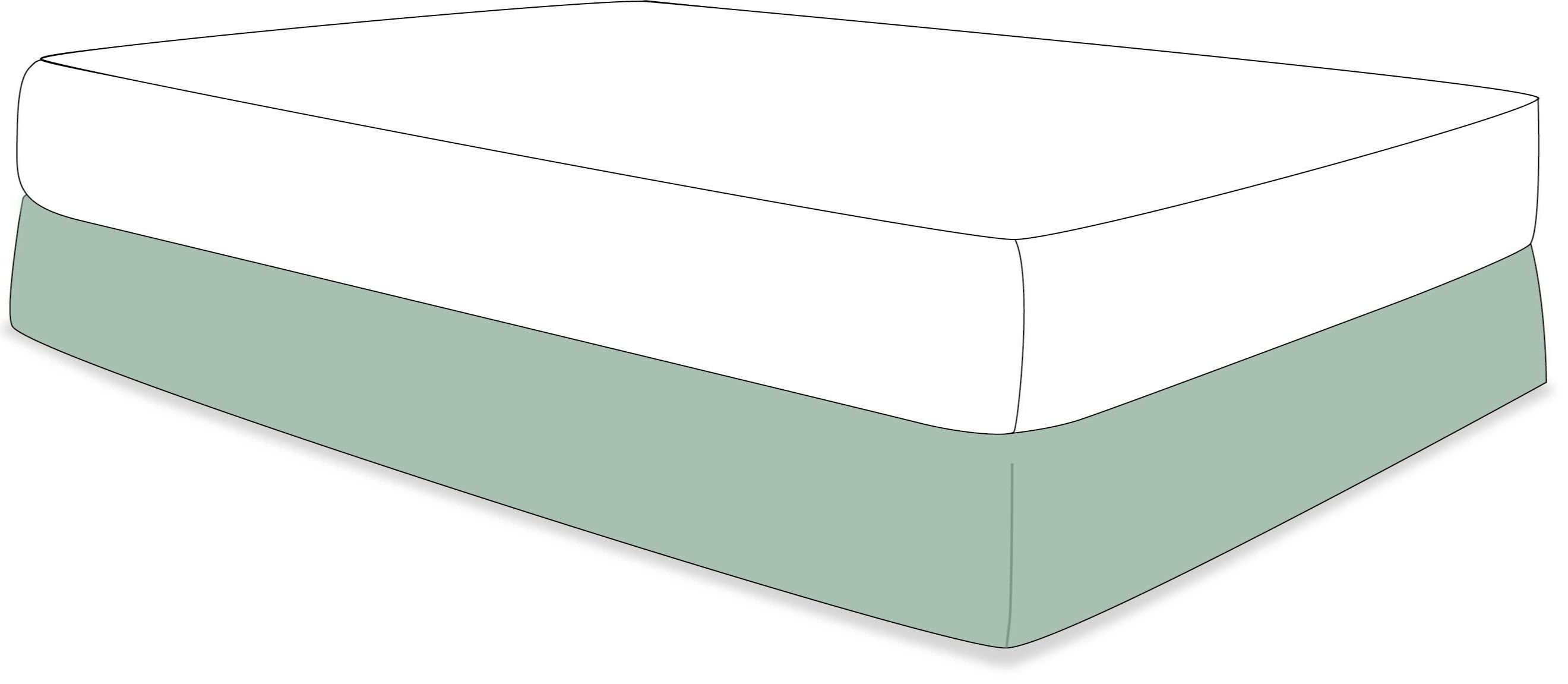 Tailored
This modern look uniformly contours the box spring. This sleek look does not have any pleats and provides a clean and simple accent to the bed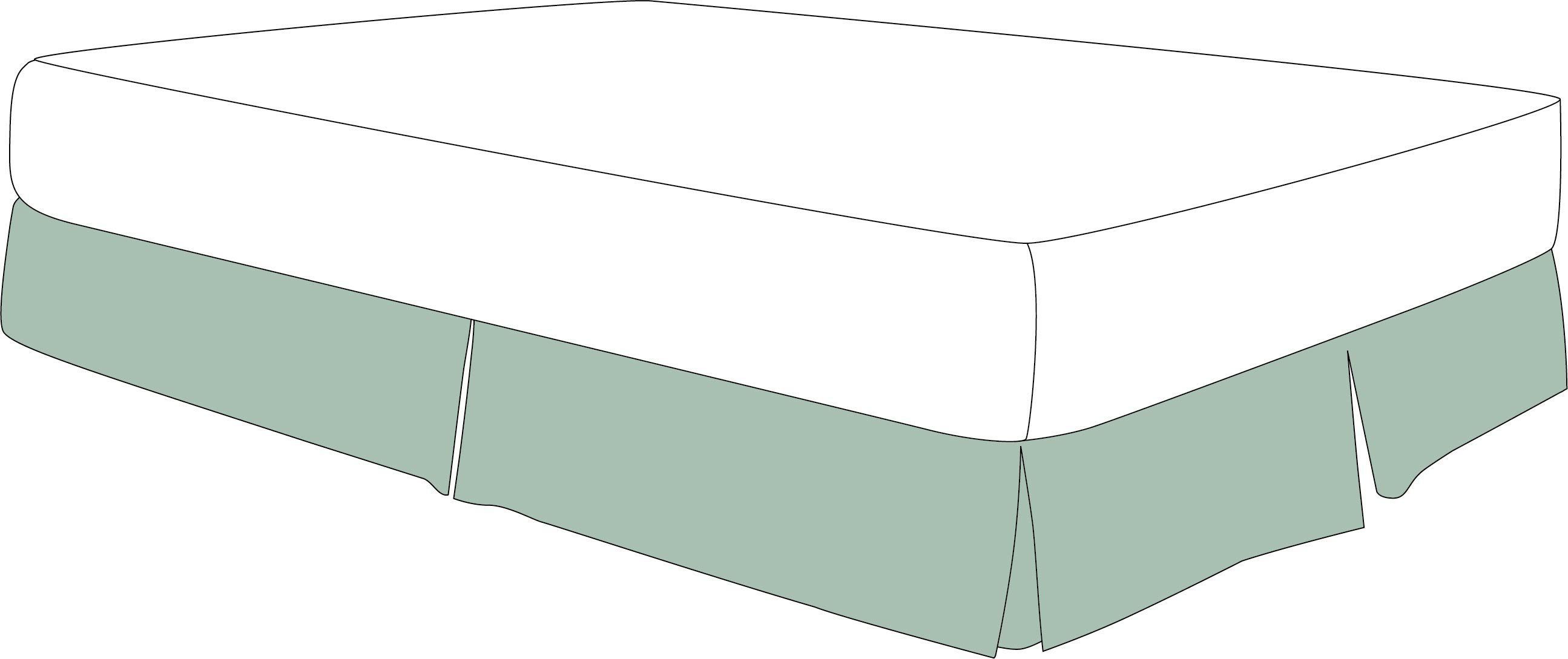 Box Pleat 
The box pleat style utilities five pleats: one on each corner at the foot of the bed and one in the middle of the three exposed sides.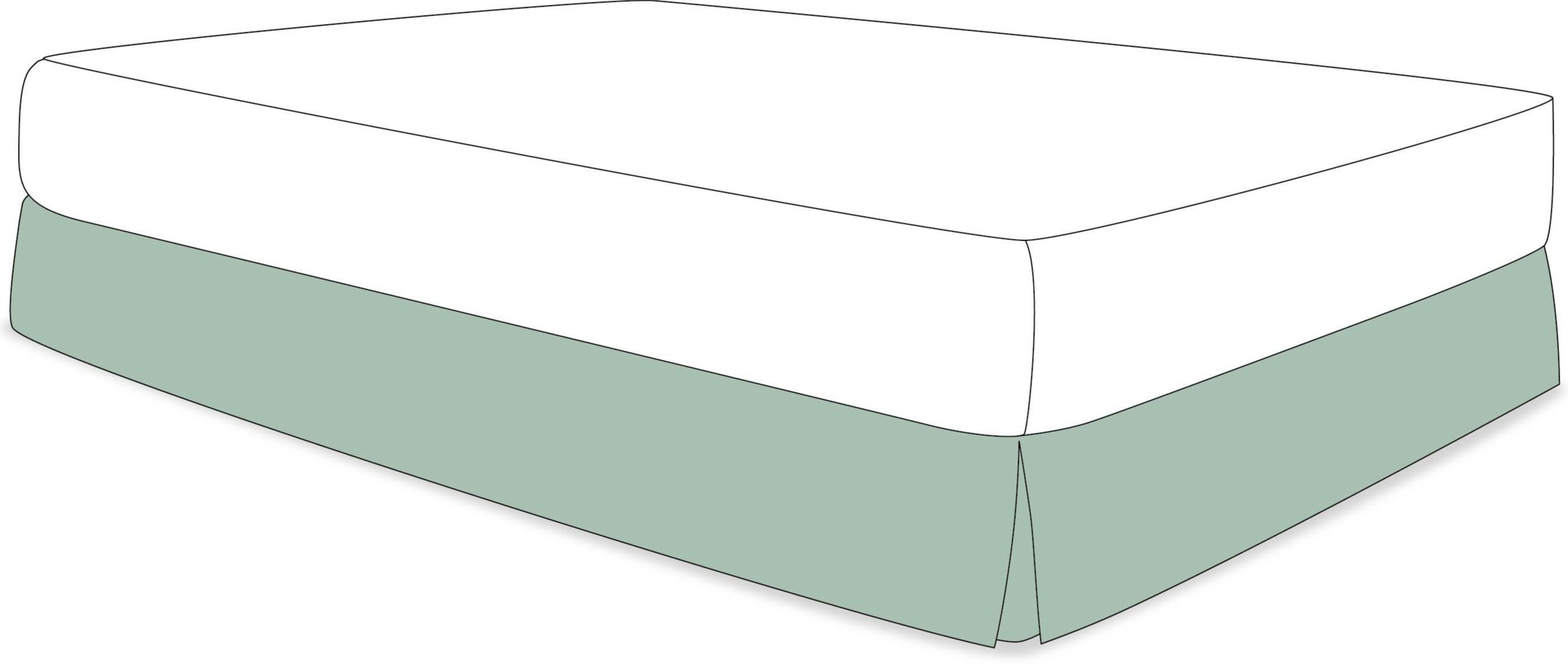 Corner Pleat
If you want to go for a more traditional style, then getting the corner pleat bed skirt is ideal. This style features pleats at every corner of the bed.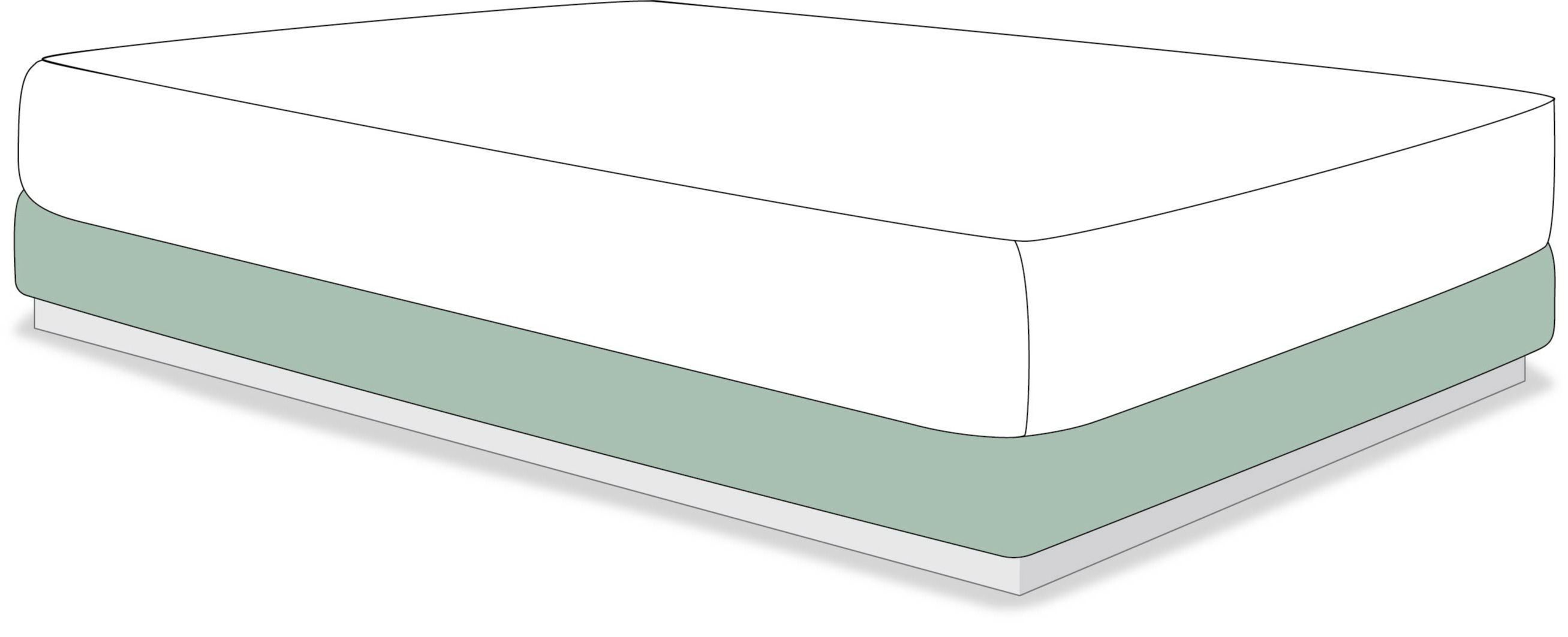 Fitted Box Spring Style
This style has an elasticized fitted cover for the box spring giving a sleek modern look to your bed that reveals the bed's base. Available in a wrap or cover style. 

Bed Skirt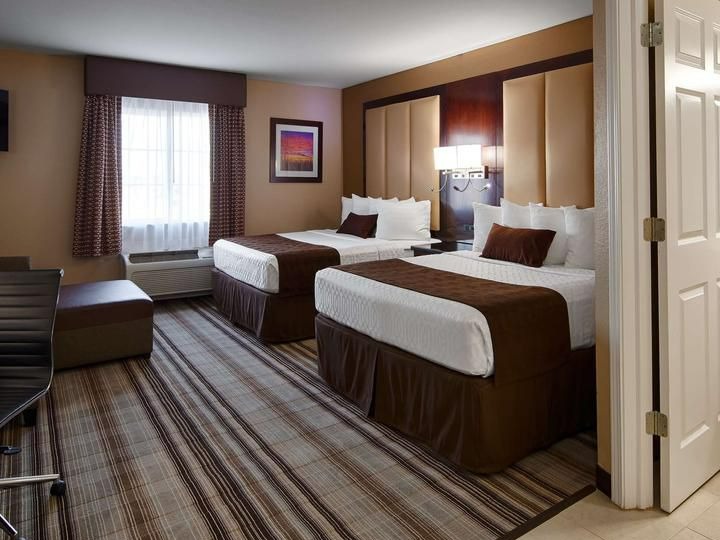 Box Spring Cover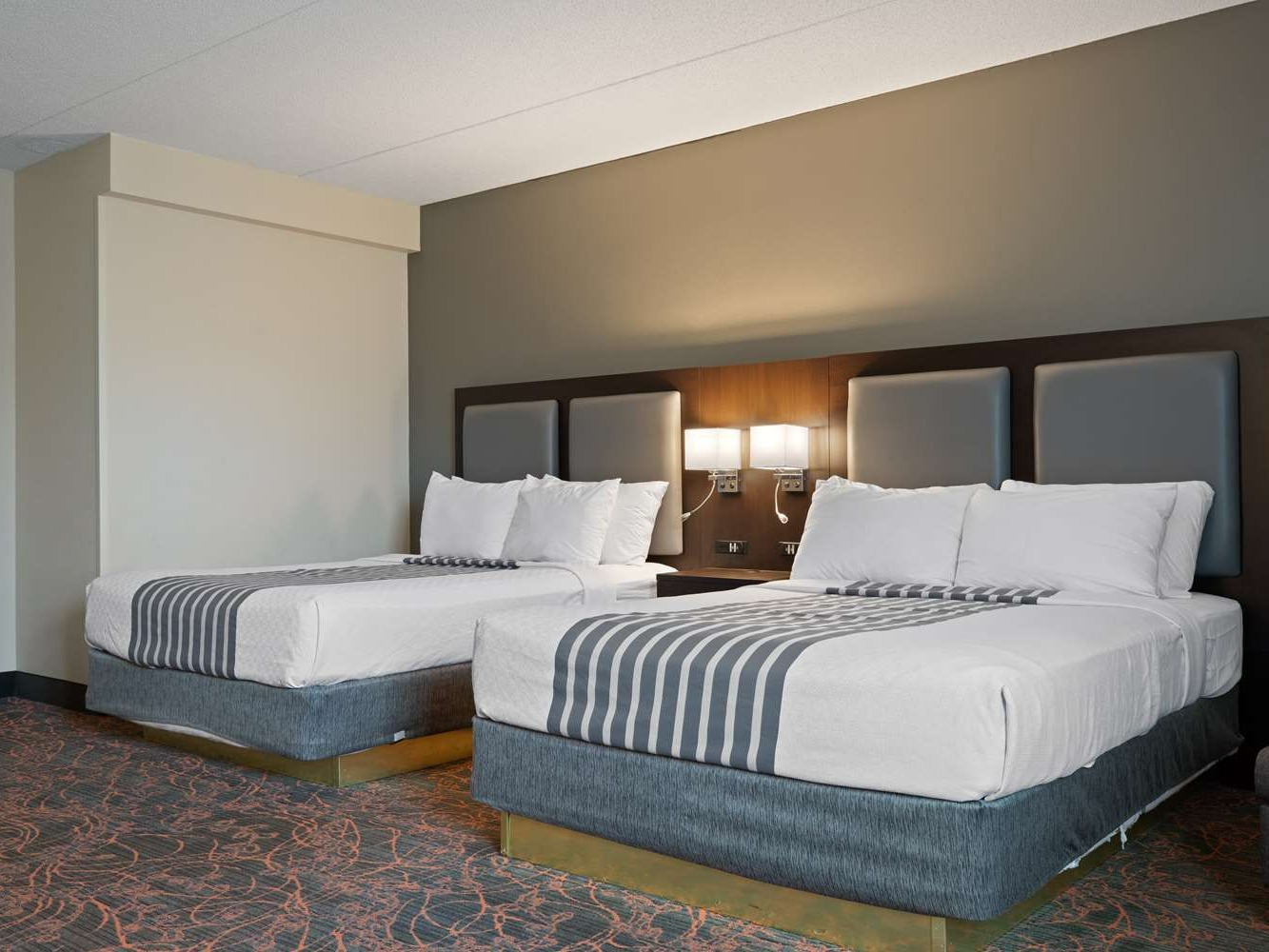 key considerations
---
When it comes to choosing the best bed skirt or box spring cover for your hotel guest room, there are some key considerations. Depending on your hotel's style, décor and bed frame, some options and styles may be more appropriate than others. We look at the two key considerations to make when purchasing hotel bed skirts or box spring covers:
– Pairing the right style for to the bed frame or base
– Choosing the right fabric for function and design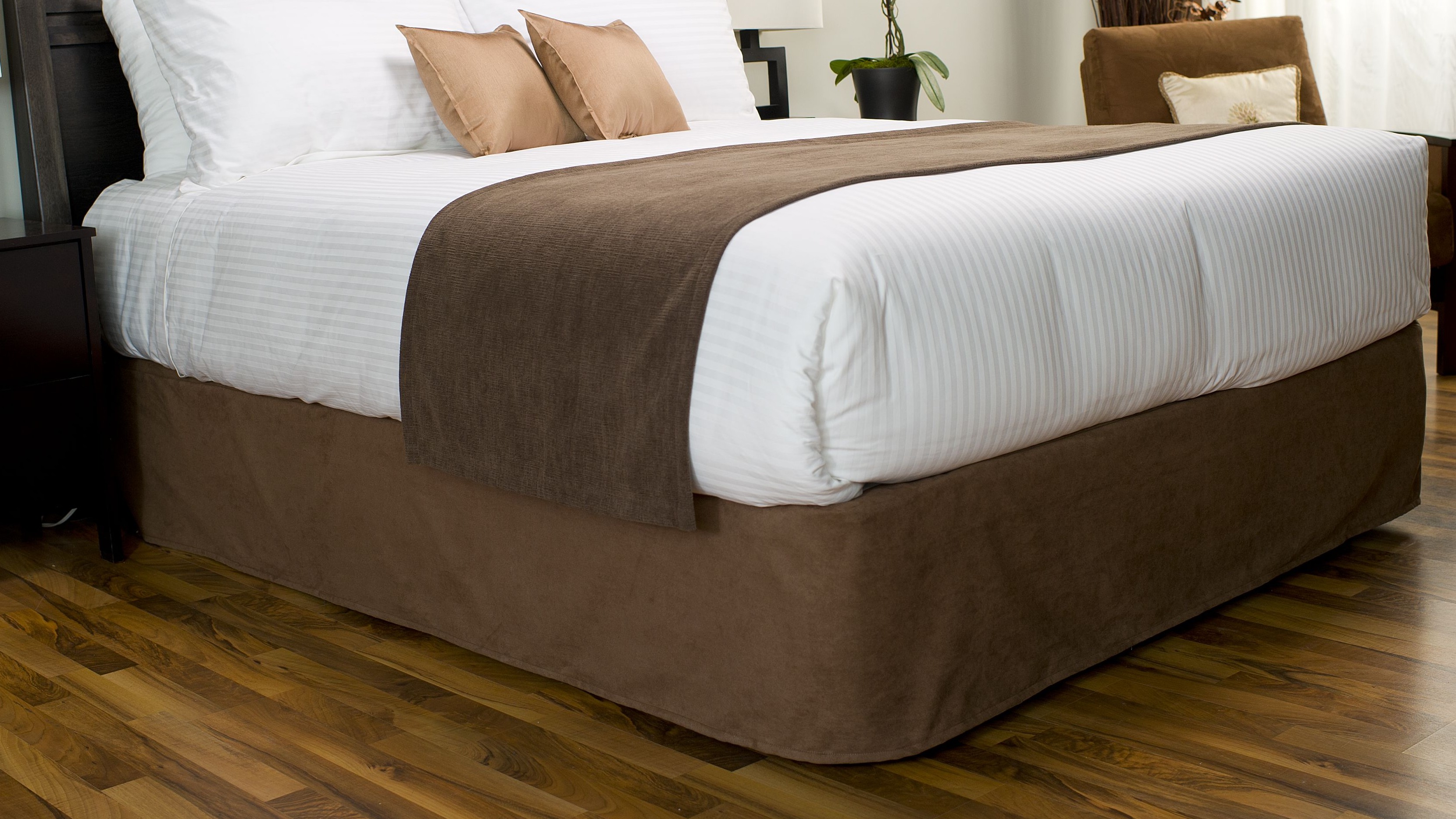 Tailored Bed Skirt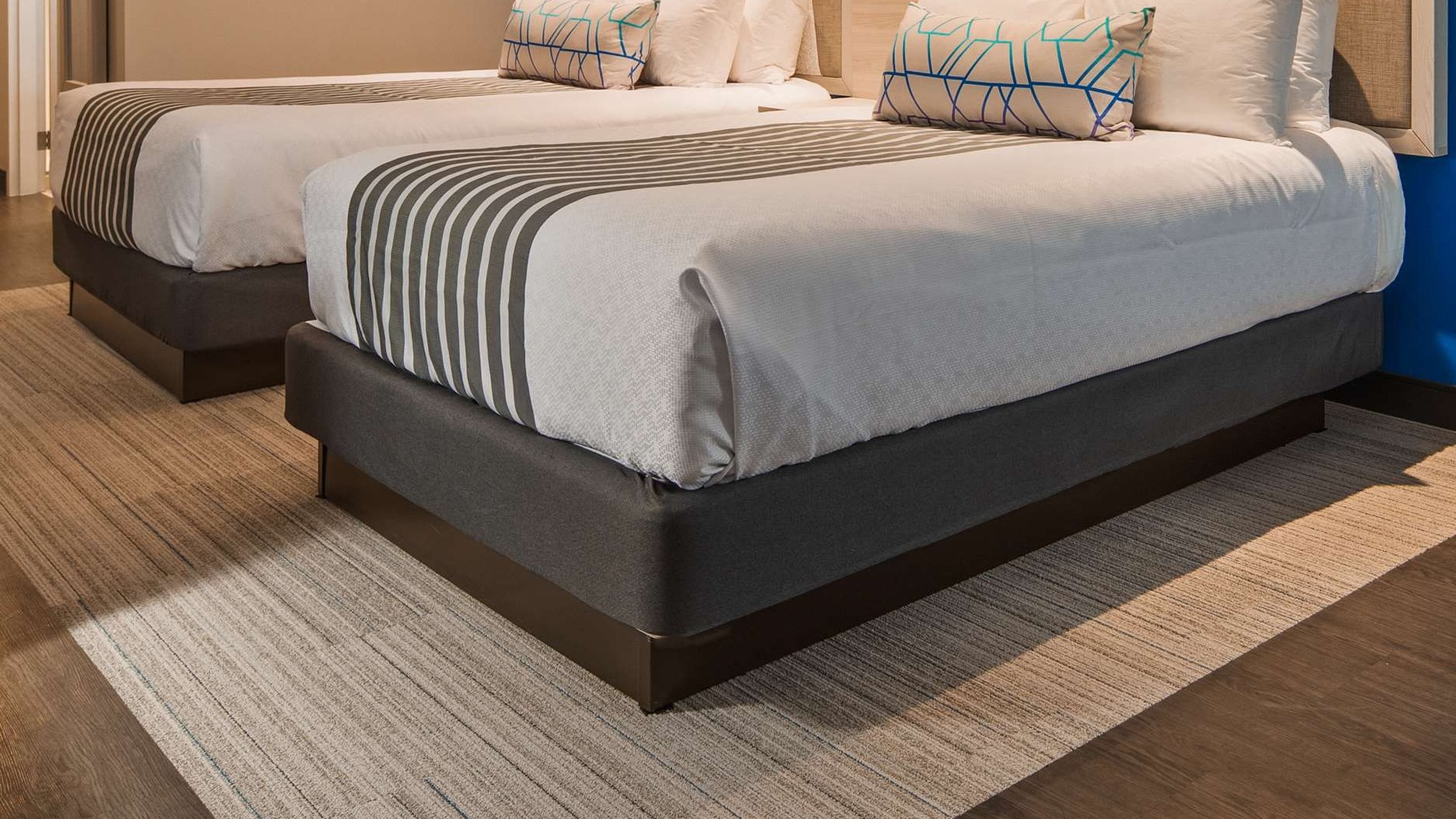 Fitted Box Spring Cover
STYLES FOR MY HOTEL BED FRAME OR BASE
Choosing between a bed skirt or box spring cover style ultimately depends on the bed frame or base that are in your hotel guest rooms. Bed bases that use metal brackets to secure the box spring are often best for bed skirts. The fabric drapes down from the top of the box spring to just above the ground allowing for any exposed metal or bed frame to be hidden behind the fabric.
Platform-style bed bases are ideal for box spring covers. These hotel bed bases are often designed to have a modern and clean look with the box spring mattress resting on top of the platform. These platforms rest directly on the ground sealing off the space underneath the bed. The box spring cover keeps the modern feel with fabric that wraps just around the box spring mattress itself.

CHOOSING THE RIGHT FABRIC
We recommend a highly durable fabric made of 100% polyester for your hotel bed skirts and box spring covers. Similar to choosing a drapery fabric, a durable 100% polyester fabric will keep its shape, less likely to hold onto dirt and stains between washes and last longer over time.
PATTERN/COLOUR
Matching the colour to another design element inside the room can really bring everything together, helping to make a great first impression on guests. Bed skirts are often washed less frequently as compared to the terry and linens, so choosing darker fabrics or busier patterns assist in hiding dirt as compared to lighter colours.

FABRIC INNOVATION
There are also new and creative options that our Textile Experts have been researching. A newer option that is great for box spring covers is a faux leather fabric made of 100% polyester. This fabric has a luxurious look, but is highly practical. Dirt or dust can be easily wiped away or spot cleaned due to the smooth surface. This allows housekeepers to easily care for the box spring wrap without having to remove the cover entirely off the bed.
EDEN TEXTILE CUSTOM MANUFACTURING
---
Eden Textile has been supplying textiles to clients across North America for more than 75 years, from hotels, restaurants, and spas to educational institutions and healthcare facilities. For custom bed skirts and more, Eden Textile's in-house manufacturing department is your commercial manufacturing partner. As consultants serving clients across the continent, we take your ideas and your needs and make them a reality.