---
The right drapery adds so much to the overall feel of not only guest rooms but boardrooms, ballrooms, and public spaces in hotels. Curtains and blinds are functional for blocking light or contributing to the ambiance of a room. The shapes, textures, and flow of the fabric are a significant part of the entire décor scheme. Floor-to-ceiling and wall-to-wall window treatments are a dramatic way to draw the eye, and can even be the focal point of the design of an entire space.
MAKE THE WINDOWS SEEM BIGGER 
---
Floor-to-ceiling drapery (curtains and sheers) will make a window look bigger than it actually is. Using floor-to-ceiling sheers also captures light and can brighten the room. Incorporating wall-to-wall drapery further adds to the dramatic impact and the perceived size of the windows.

These styles of window treatments also eliminate the need for additional artwork or other features for the wall. Floor-to-ceiling and wall-to-wall curtains create a luxurious, expensive look, as most people rarely see such large panels of fabric.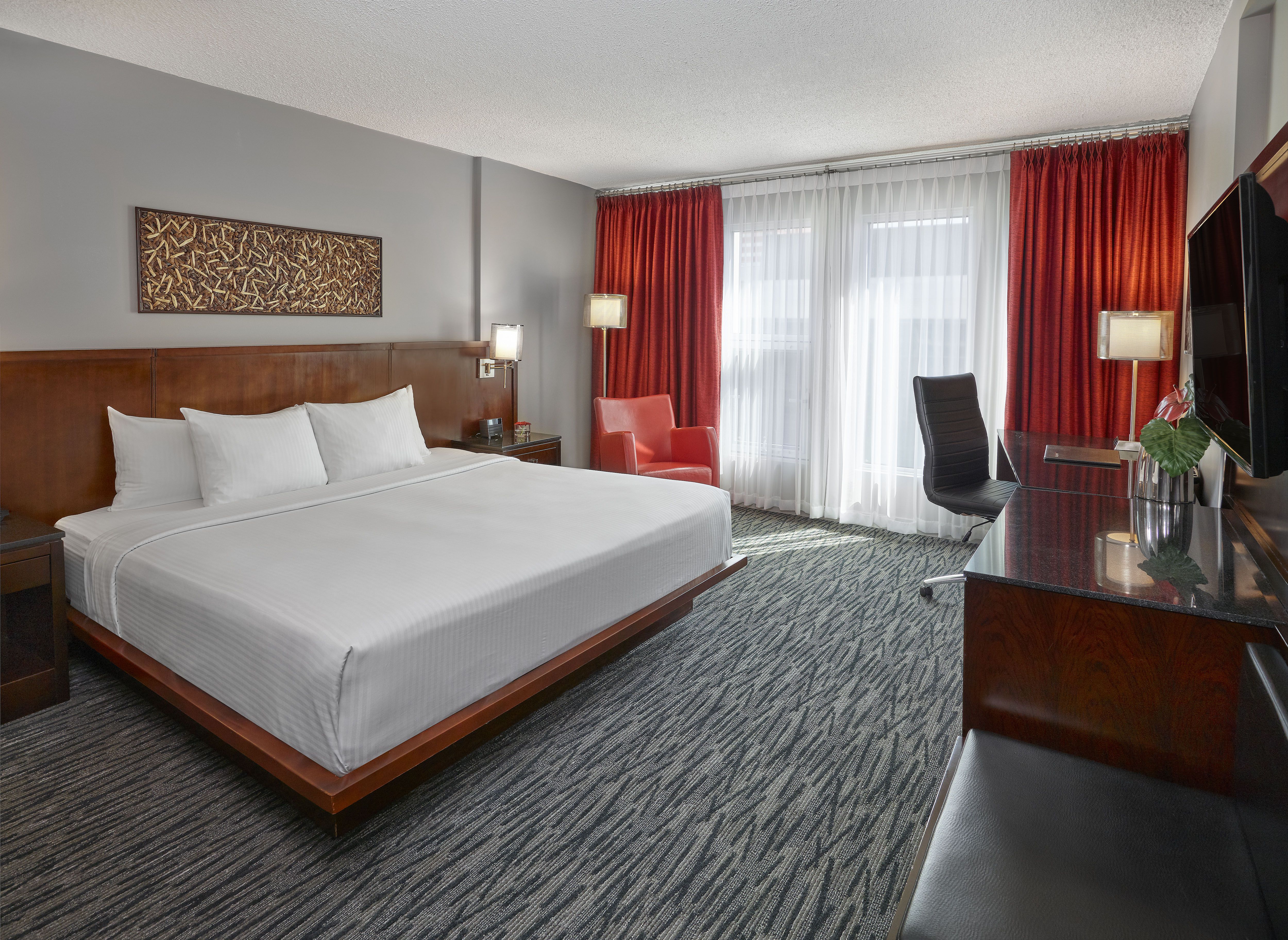 Ripple Fold VS. French Pleat
---
Two of the most common styles of drapes are ripple fold and French pleat. Ripple fold has a unified, consistent wave in the fabric (it's also sometimes called a wave fold). It is wonderfully simple, minimalist, and creates a calming effect because of its perfect, consistent aesthetic. Ripple fold would be a great choice for floor-to-ceiling in any room, but especially a bedroom where you want guests to feel calm and relaxed as much as possible.
French pleat (also referred to as the three-finger pleat) is a more classic, traditional style for drapery. It's a great way to add decoration and fullness to your drapes while still allowing for full functionality of the curtain. French pleat can work for rooms with classic decor, and could also signal history and class when used dramatically in the floor-to-ceiling style in ballrooms or hotel lobbies.
Tip: Don't mix and match. Combining these two styles would clash.
Colours and Patterns
---
While floor-to-ceiling and wall-to-wall curtains are already statement pieces, the colours or patterns chosen can make them a real "wow" for guests walking into hotel lobbies and guest rooms. Bold colours, dramatic patterns or even designs reminiscent of art can make a huge impact. Alternate to that, a more subtle, neutral colour can allow for the eye to be drawn to other design pieces, furniture, or artwork in the room, while still achieving a dramatic and luxurious window treatment.

Eden Textile and ETHODA 
---
Eden Textile has been supplying textiles to clients across North America for more than 70 years, from hotels, restaurants and spas to educational institutions, healthcare facilities and industrial settings.

For custom window treatments, Eden Textile's in-house manufacturing department, ETHODA, is your commercial manufacturing partner. Let's get your window treatment project started! As consultants serving clients across the continent, we take your ideas and your needs and make them a reality.